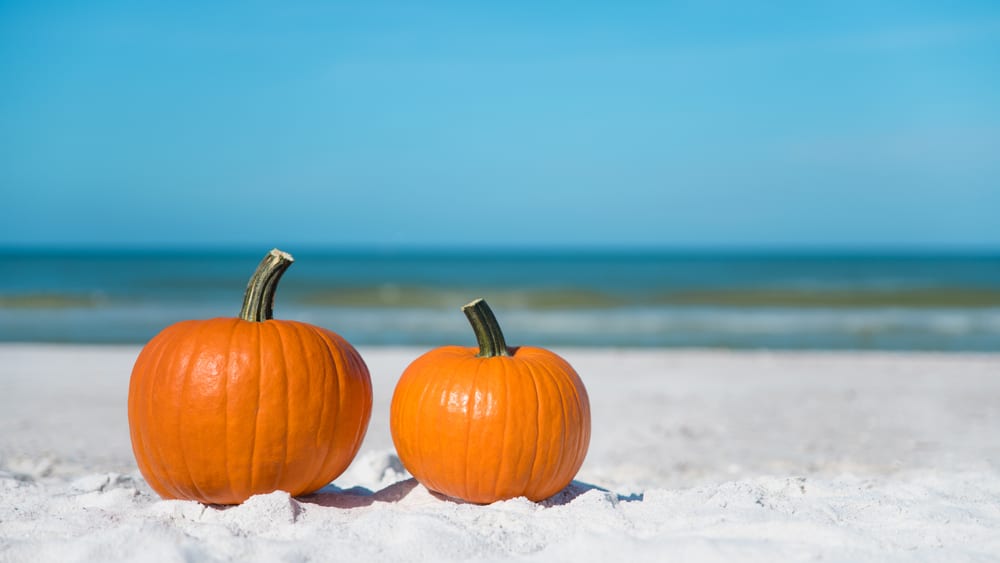 The weather in St. Augustine is terrific all year round, but if you haven't ever experienced fall in Florida, you've been missing out. The temperatures hover around the mid-60s to low 70s, the days are sunny and bright, and you'll find fewer crowds in the popular downtown destinations. Autumn is also a fantastic time in St. Augustine to catch live music and tour the historic district, and if you happen to be in town for Halloween, it's a trick-or-treat extravaganza on St. George Street. Don't forget to pack a costume—the locals like to go all out!
At our St. Augustine Bed and Breakfast, we enjoy celebrating fall in Florida with seasonal goods, jack-o-lanterns, warm apple cider, and treats galore. Considering our Inn is often noted for its paranormal reputation, it's easy to get in the spirit around here. Our guest rooms and suites are perfect for a quiet evening with wine and your favorite person—incredibly cozy during the fall in Florida. Join us during this beautiful and festive time of year, and book your next stay at Casa de Sueños today!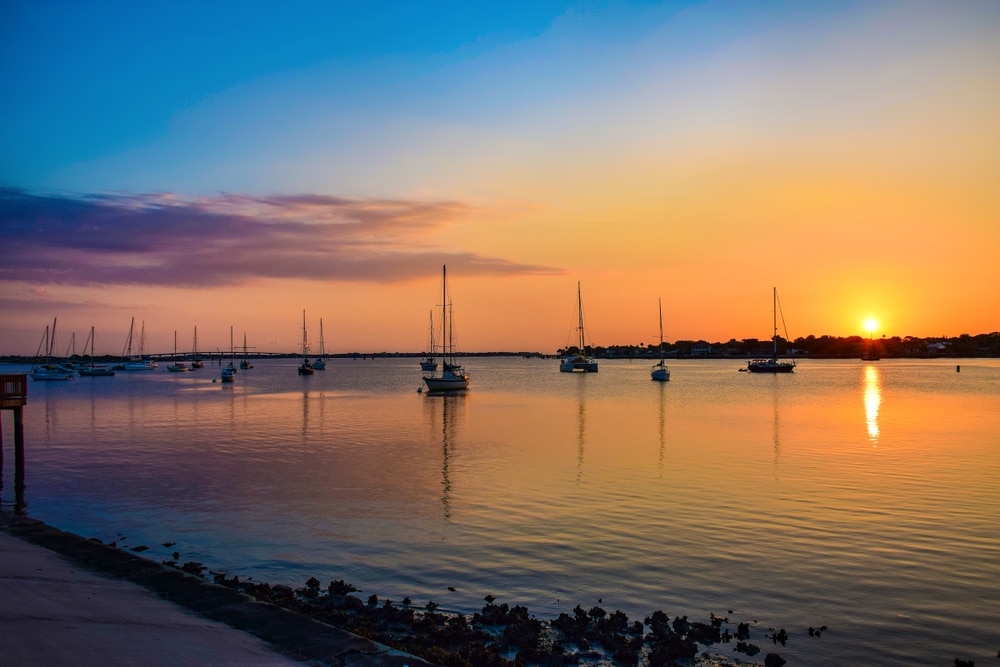 Things to do during the Fall in Florida near our B&B
There are so many fun things to do this fall in Florida; read on to start filling your itinerary for your next trip! Thankfully, the Night of Lights kicks off starting mid-November, and the city is awash in sparkling lights. Here are our favorite things to do this fall in Florida:
Dining out at the best restaurants in St. Augustine is a fantastic addition to any getaway; a few of our favorites are River & Fort, St. Augustine Fish Camp, and the Sainte George. Please read our complete list of recommendations here!
Grab a fancy cocktail and a tour at St. Augustine Distillery. This experience holds the number one spot on TripAdvisor of the best things to do in St. Augustine—and fall in Florida is a great time to do it!
Catch a show at the St. Augustine Amphitheater. This venue in downtown St. Augustine is always a treat for a lovely evening with great music from big names.
You'll find some of the best shopping on St. George Street in the historic district. From souvenirs to local arts and crafts, you'll find something to commemorate your trip and things to bring home to your loved ones.
Spend the day at St. Augustine Beach during fall in Florida; you'll feel like you have the whole beach to yourself! Ask our excellent staff, and we'll get you set up with towels, chairs, and much more.
Hit the world-class museums, historical forts, old churches with fascinating architecture, and art galleries.
Take a spooky (or not so spooky) trolly tour of St. Augustine. While the oldest city is super walkable, you'll want to grab a trolly tour to get the full scope of the area's unique attractions.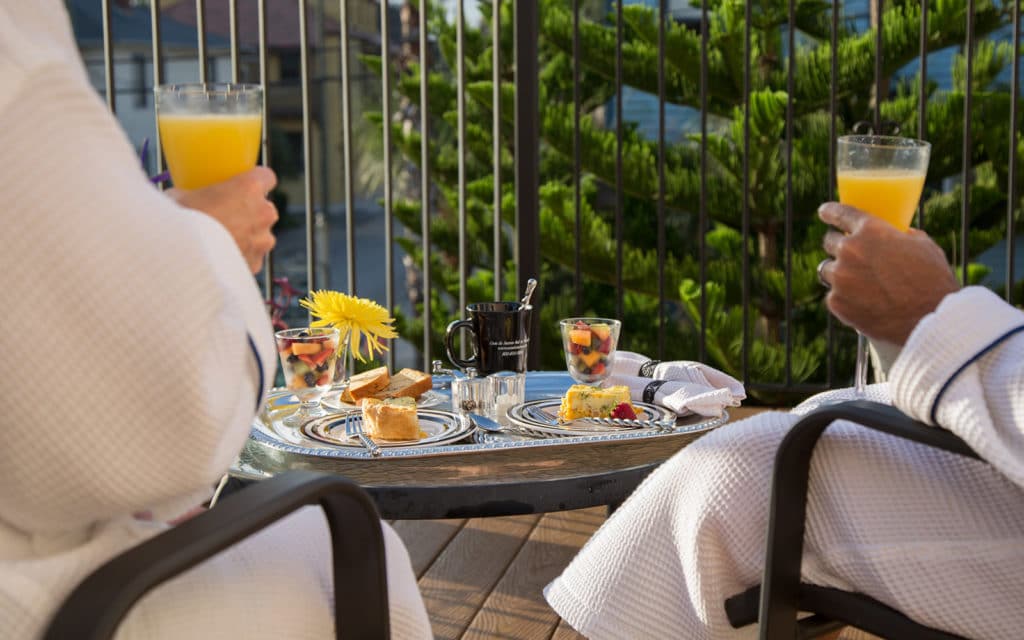 The Best Breakfast in St. Augustine:
Our hearty breakfast always includes two hot, sweet, or savory entrees that change daily. These entrees accompany fruit salad or fruit soup, freshly baked breads, coffee and assorted teas, fresh juices, homemade granola, cereals, and a whole serving of Inn hospitality. Breakfast is served from 7:30 am to 9:30 am Monday through Friday and 7:30 am to 10:00 am on Saturday and Sunday. Enjoy breakfast in our dining room or take yours to the garden patio for fresh air or your guest room to relax. During the fall in Florida, you'll still be able to soak up the sunshine with your coffee in the morning!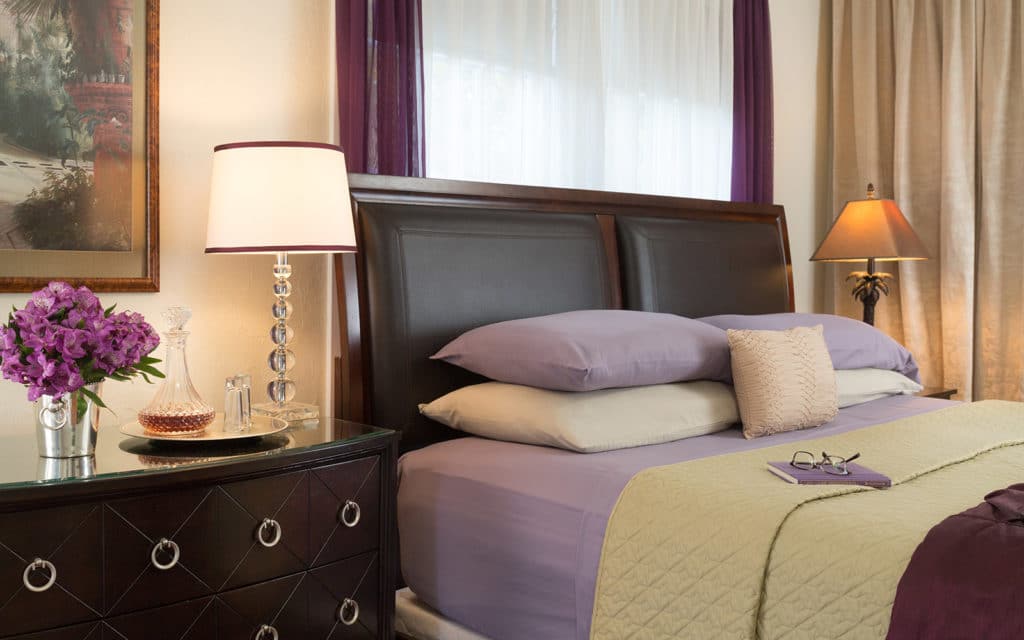 Elegant Lodging in St. Augustine
This historic town is undeniably where you'll find romance no matter what you do! After exploring all the fun things to do during fall in Florida, you'll love heading back to our St. Augustine Bed and Breakfast. Here you'll find the ultimate serenity you have been craving. Make our bed and breakfast your headquarters for exploring all St. Augustine has to offer. Being located within walking distance of many of the attractions will make your trip here even more enjoyable and stress-free.
Our casual and elegant guest rooms are all unique in size and decor, making your stay even more special and suited just for you. You'll enjoy amenities such as luxurious plush robes to get comfortable in, wine glasses, fresh flowers, a decanter of cream sherry, and much more! If you are looking for the perfect place to experience fall in Florida, you've found it! Book your stay with us today.