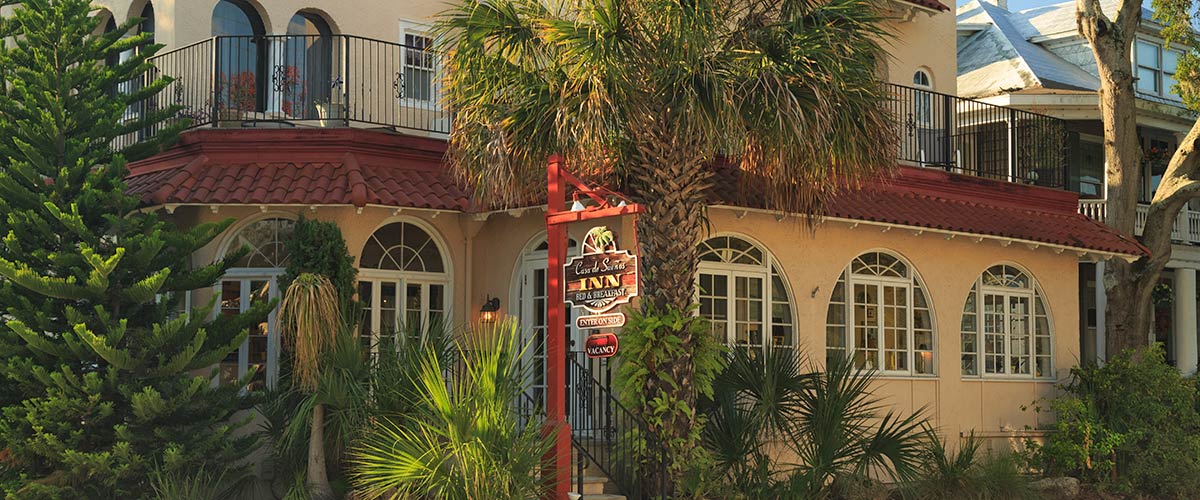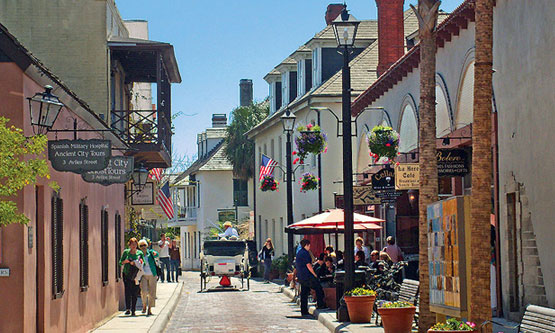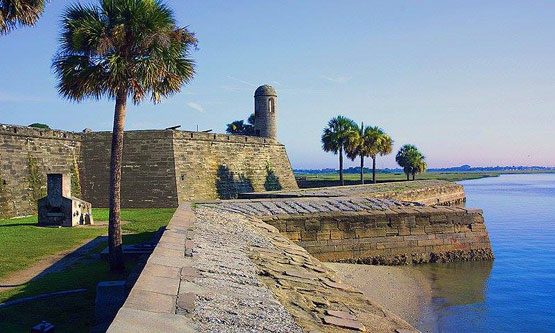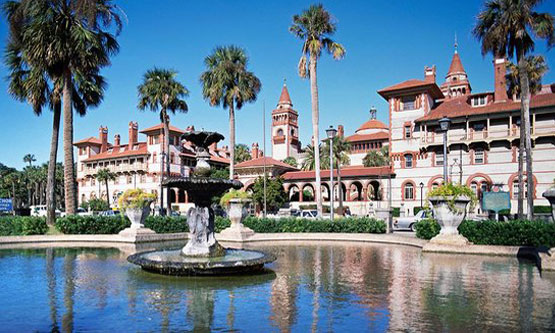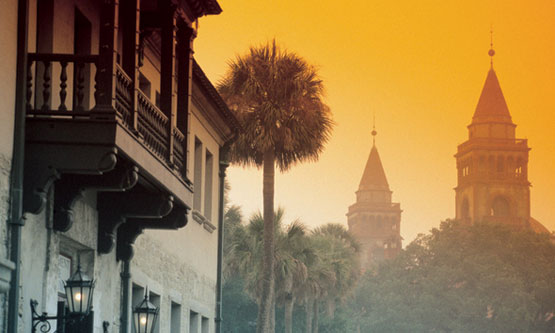 Casa de Sueños is ideally located in the heart of one of the "Ten Most Walkable Cities in North America," as designated by AAA. Many guests of Casa never use their car after arriving, finding plenty to see and do within easy walking distance. The narrow brick paved streets of the surrounding 144-block Historic District are lined with historic buildings, museums, antique shops, interesting architecture, and more. The Bayfront hums with activity, including water excursions from the City Marina, re-enactments at the Castillo de San Marcos National Monument, parades, fireworks, and wonderful opportunities to stroll. The city's central Plaza de la Constitucion, established by royal decree in the 16th century while the city was under Spanish rule, is the site of concerts and other gatherings.
Our Historic Neighborhood
Horse-drawn carriages roll by Casa de Sueños as they tour the local landmarks and sites. The Casa is located in what was built as a residential neighborhood over a century ago. Today many of the nearby buildings are still private homes, some have become commercial businesses and professional offices, and many churches, shops, pubs, and restaurants are close by. The lovely grounds and stately buildings of Flagler College, built in the late 1800s as the elegant Ponce de Leon Resort Hotel, are a short walk from Casa. The Lighner Museum is another nearby example of a grand hotel, now open with an electic collection of antiquities. Just a few blocks in the other direction is Francis Field, the site for many fun festivals and celebrations all year round – Celtic Heritage Festival, Seafood Festival, Spring & Fall Art Festivals, Blues, Rhythm & Ribs and more.
Our weather is ideal for being outdoors, and the Old City bustles with activity. Discover the pedestrian-only 11 blocks of St. George Street, with visitors enjoying the tremendous variety of shops, arts and crafts alleys, indoor mini malls, bakeries, galleries, cafes, and historic buildings which line the promenade of palm trees and benches. Sample locally made chocolate confections, take a distillery tour, visit a brewery, or do a wine tasting. Hop on a trolley or sightseeing train, join a walking tour, or follow the monthly art walk. Eat al fresco along narrow historic Aviles Street, visit the Cathedral Basilica and other King Street merchants, wander the many surrounding historic streets, and discover many of the "oldest" treasures of St. Augustine. And don't forget about viewing the city from the water, on a sailboat cruise, eco tour, kayak rental or other water adventure… or from the air, in a biplane or helicopter!
History lives in St. Augustine, and you can be a part of it! Watch a cannon-firing demonstration at the Fort, see the City Gates and remnants of the walls which protected the early Spanish settlement, tour ancient cemeteries. See the influence of Spanish and British periods of rule on the architecture, drink from the spring where Ponce de Leon thought there was a fountain of youth, tour the grounds of America's first mission, or learn how early settlers lived. Savor the cultural influences of the city, with a year-round calendar of celebrations as well as offerings of fine ethnic cuisine in many restaurants.
No visit to St. Augustine is complete without some exploration beyond the confines of the historic Old City. In every direction are excellent cultural and historic attractions, landmarks and museums, and sites of historic events and structures.
Our innkeeper is a source of vast local information, so let us help you discover St. Augustine during your stay at Casa de Sueños.
For an up-to-date calendar of events, including Festivals, Living History, Visual Arts, Performing Arts, Literary Arts, Cultural Events, Classes, and much more, visit Historic Coast Culture and Old City Calendar.