Our St. Augustine Bed and Breakfast
Casa de Sueños is an intimate St. Augustine Bed & Breakfast Inn with a flair and grace reflecting its Spanish design. The asymmetric layout of the interior creates interesting spaces with much variety in their shapes, sizes and arrangements. Magestic palladian windows form a large bay, bathing the Dining Room in bright light. Walls of windows surrounding the West Living Room and East Living Room provide views of our historic St. Augustine neighborhood. Tile floors, iron railings, french doors and archways accent the distinctive architectural features. Tall ceilings, elegant chandeliers and wide stairways add to the dreamy mood which makes Casa de Sueños so appealing.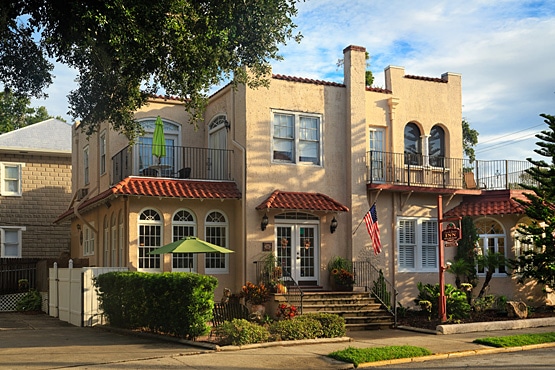 The Casa's guest rooms are equally eclectic, combining charm with Southern comfort. Guests enjoy discovering which room suits them best. All have private baths, some with jetted tubs. Three of the guest rooms on the second floor have private balconies with outdoor seating, overlooking the ancient streets below. One first floor room also has ramp access, a private entrance, and a triple sized walk-in shower for accessibility.
Casa de Sueños has free guest parking on site – considered a luxury in the midst of the Old City! The location of the House of Dreams in St. Augustine's historic district makes driving unnecessary. Many restaurants and sights you'll want to visit are within walking distance, and it is easy to catch a step-on trolley which tours the ancient city streets.
The Casa's location on Cordova Street places it on the western border of the 18th century Rosario Line, an earthen defensive wall built to protect colonial St. Augustine during its First Spanish Period of occupation. The wall, planted with sharp Spanish bayonet plants and cactus, ran 1 mile north and south, then east to the bayfront. St. Augustine's walls protected the old city from British invasion. Tolomato Cemetery, just north on the same block as the Casa, is on the site of a refugee Indian mission, La Natividad de Nuestra Señora de Guadalupe de Tolomato, one of 5 small villages established by the Franciscans in the early 1700s to shelter Indians fleeing British attacks in other parts of Florida. 
A portion of the cemetery was set aside for former American slaves who had converted to Catholicism after escaping bondage in the Carolinas by fleeing to the Spanish-held city. Some Minorcans laborers (as well as Greeks and Italians and those from other areas of the Mediterranean), who had survived and escaped to St. Augustine from a failed indigo plantation in New Smyrna Beach Florida in 1777, were allowed to be buried in the cemetery, as were soldiers from both sides of the US Civil War. 
In a city where many things are identified as the "oldest," Tolomato is the oldest extant planned cemetery in Florida, having entered into use as a cemetery in 1777. It was closed to new burials in 1884 but preserves its connection to remarkable moments and individuals in the history of St Augustine and of the Catholic Church in Florida.
Our Lodging Properties & Area Attractions
Please use the map below to see all lodging options we provide. Clicking on any icon will show more details and links to view more & book online.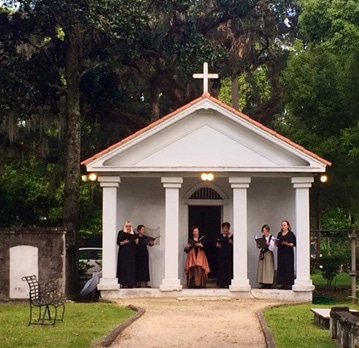 A Ceremony at Tolomato Cemetery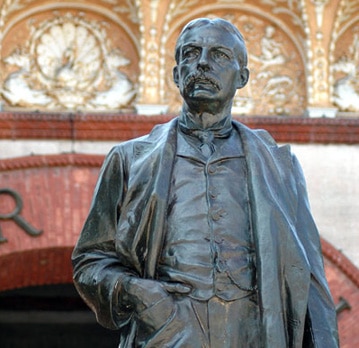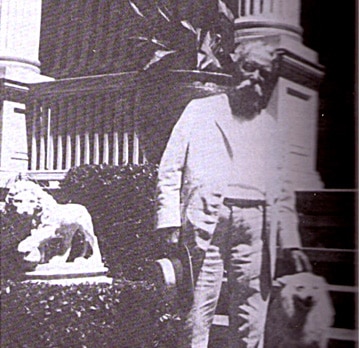 A property map of the Ponce de Leon Hotel and its surroundings from 1889 (shown below) shows bare land where Casa de Sueños now stands, in the name of Dr. Anderson. Dr. Andrew Anderson (1839-1924) was a physician, philanthropist, and mayor of St. Augustine. He commissioned multiple works of art for public spaces in the city, including the two carved marble lions at the city's approach to the famed Bridge of Lions and the life-size statue of Ponce de Leon in the traffic circle at the east end of the Plaza.
The doctor's plantation included a large tract of land between the San Sebastian River and Maria Sanchez Creek, where he built his home Markland House (now part of Flagler College, on King Street). He became a partner in the St. Augustine Hotel, the most opulent hotel in the city in the 1880s. Anderson is said to have inspired Henry Flagler's vision of St. Augustine as a winter playground for the rich. In 1885, Anderson sold his land east of Markland, which was an orange grove, to Henry Flagler for the construction of Ponce de Leon Hotel and the Alcazar Hotel (now City Hall and The Lightner Museum).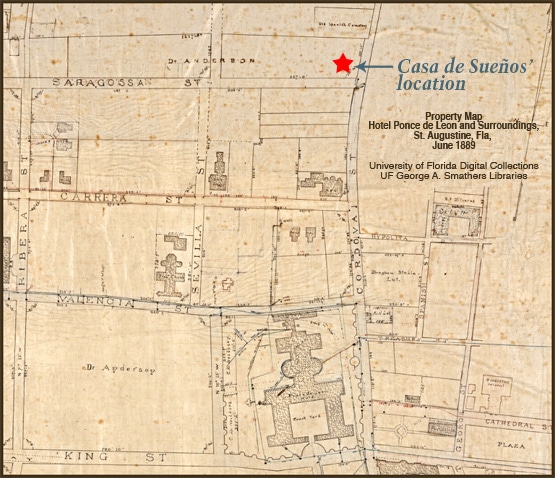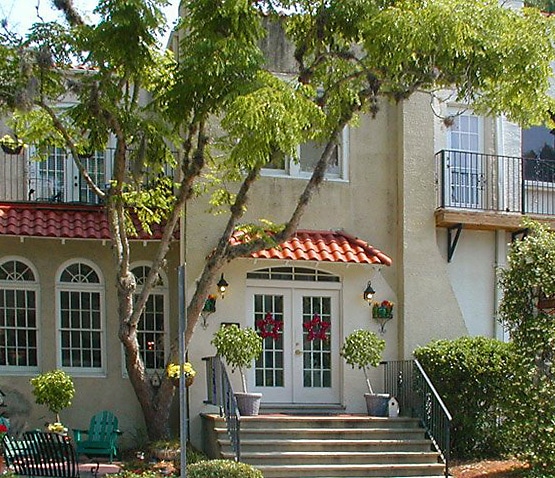 St. Augustine's architecture reflects its colorful history, and Casa de Sueños is particularly remarkable, both for its building and its site. It was likely built as a one-story wooden frame residence around 1904, on land which was part of the Model Land Company, the real estate arm of Henry Flagler (1830-1913), multi-millionaire industrialist and co-founder of Standard Oil. Flagler was a key figure in the development of Florida's Atlantic Coast and put St. Augustine on the map as a tourist destination with the opening of his opulent 540-room Ponce de Leon Hotel (now Flagler College, just a short walk from Casa de Sueños) in 1888.
The neighborhood where the Casa de Sueños was originally built as a private residence is said to include homes once owned by some of the city's most prestigious residents. One of the Casa building's early residents was George A. Colee, whose family started a long-running horse carriage company in St. Augustine in the 1880s. The residence had an ambitious expansion during the early 1900s, when members of the Carcaba family called it home. Family patriarch P.F. Carcaba, a native of Oveido, Spain, had come to St. Augustine in the late 1800s after starting and operating a successful cigar manufacturing operation in Cincinnati. He was an expert on tobacco who regularly journeyed to Cuba to buy select leaves. He produced pure Havana "Caballeros" in boxes covered with images of Henry Flagler's hotels.
The making of top grade cigars by hand reached its peak in St. Augustine during the years just after World War I. The family-operated Solla-Carcaba Cigar Factory was built around 1909 on nearby Riberia Street. This 3-story brick building was listed in the U.S. National Register of Historic Places in 1993, stands as St. Augustine's oldest surviving major industrial building and a last remnant of the city's cigar industry. Prosperity enabled the Carcaba family to extensively renovate the Casa building, adding wide palladian and bay windows, red tile roofs, balconies, arched doorways, and stucco exterior. This gave the building its Mediterranean-Revival styling which is so distinctive today. The Casa building served as the Garcia Funeral Home in the mid 1900s. In the 1970s it was under the auspices of the St. Augustine Association for Retarded Citizens and was later converted to offices.
Casa de Sueños was established as an inn by owners Ray and Sandy Toole in 1998. From 2001-2015 the lovely bed and breakfast was owned and operated by Kathleen Hurley, who garnered rave reviews from her guests. Since autumn of 2015, Casa de Sueños has been one of Joe and Margaret Finnegan's outstanding lodging properties in the St. Augustine area. For over 30 years, the Finnegans have been owner/innkeepers of nearby St. Francis Inn, just five blocks away from Casa de Sueños. Under the Finnegan's ownership, both Inns have been hand-selected as members of the elite Select Registry Inns of Distinction, passing a quality assurance program with challenging standards that assures their guests of an exceptional experience. The Finnegans' additional guest offerings include a variety of vacation accommodations at St. Augustine Beach and a harbor-side condominium at Camache Island marina, called Harbor 26.