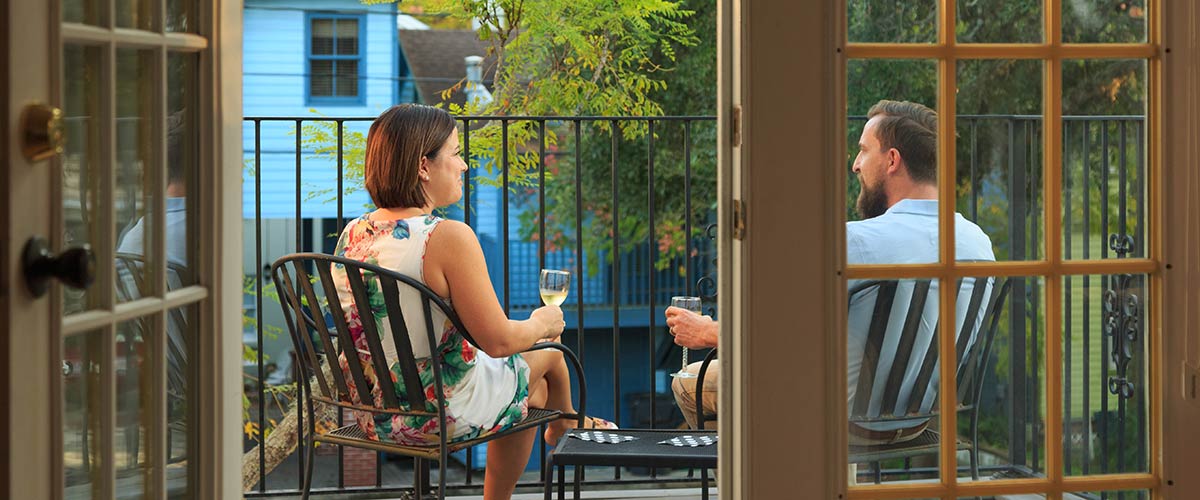 Best Practices And Procedures To Prevent The Spread Of Covid-19:
Over the next few months, when our guests are here at the St Francis Inn and Casa De Suenos, they will notice numerous additional procedures and changes in all areas of the Inns and in our customer service. Specific areas of focus will include:
MASKS……. the City of St. Augustine Commission enacted a new ordinance effective June 27th requiring all staff and guests/customers to wear masks when indoors in public spaces except when eating/drinking.  We are happy to provide masks at no cost to guests who need them.
Monitoring the Health of our Staff:
Our Employees will have their temperature checked at the beginning of each shift and will be sent home if they have an above normal temperature. We will be recording this information and keeping it on file. If any of our employees are feeling or showing any symptoms such as shortness of breath or dry cough they will be required to stay home until they do not have any symptoms for 3 days.
All of our employees will be required to wear masks while inside and/or working with guests. 
We have added signage throughout the properties to remind everyone about social distancing protocols and the need to frequently wash their hands and use sanitizer.
Sanitizing and Cleaning of General Areas:
In public spaces, we will be requiring our staff to thoroughly treat high-touch surface areas with hospital-grade disinfectants. This cleaning will be done on an increased regularly scheduled basis.
The Public/Employee restrooms at both of our properties will now be locked at all times. Guests will have to use the restroom in their room once they have checked in. Prior to check-in, guests may ask the innkeeper for a key for the restroom. Our staff will be monitoring the use of the public restrooms so we can ensure that they are checked and disinfected after each use.
We are working with the City of St Augustine to have sanitizer, masks and gloves available to guests and staff.
Check-in procedure:
The St Francis Inn will be adding a plexiglass shield at the front desk to provide an extra level of precaution for guests. At Casa De Suenos the check-in process will allow for a 6 foot distance between guests and innkeepers.
There will be a limit of one guest at the front desk with one innkeeper behind the desk. The phones, pens, guest credit cards and room keys will be wiped down and sanitized before and after each guest or each time a staff member comes in contact with these items. Our Select registry kiosk will be sanitized before and after each use.
Paper materials that are distributed at check in such as maps and menus will be recycled after each guest departs. Our staff will remove all of these items from the guest rooms after check-out so that we can ensure all of the materials handed to guests at check in are new.
Guest Room/Amenities Sanitizing Procedures:
In guest rooms we are cleaning all surfaces thoroughly with hospital-grade disinfectants. We will also be placing disinfecting wipes in each room for guests' personal use.
We have removed the in-room phones from the guest rooms. We feel this should not be an issue since many travelers today will have their personal cell phones with them while staying with us. We have also removed the in-room pens and note pads. If a guest would like a pen or notepad during their stay, please ask your innkeeper for one.
At both properties we have removed the cream Sherry from the decanters. The decanters will be sanitized after each check-out and replaced back in the room. If a guest would like cream sherry during their stay with us they may ask an innkeeper to fill the decanter for them.
The St Francis Inn gift center items will be kept in a separate locked cabinet out of reach of the public. If you would like to purchase an item from the gift center, please let any of our staff know and they will assist you so you can make your purchase.
Bicycles- Our guest bicycles will be sanitized before and after each use.
Food and Beverage Experience:
At both properties we will be modifying our operational practices for our food and beverage experiences. This will include eliminating buffets, while keeping our same menu, designating specific times for guests to eat, delivering food to the room or other dining areas throughout the facilities.
After each guest eats our staff will wipe down and sanitize the table and chairs to prepare for the next guest.
Social hour food and beverages will be served in individual marked boxes with the guest's room name on them. Guests may enjoy these evening snacks in their rooms, or in several seating areas throughout the properties. Desserts will also be served in individual boxes with the guest's room name on the box. Our guests will be able to pick up these items between 5-8pm nightly.
THE ST FRANCIS INN AND CASA DE SUENOS STAFF WOULD LIKE TO THANK YOU FOR YOUR CONTINUED PATRONAGE. WE LOVE WHAT WE DO AND WE LOOK FORWARD TO SEEING ALL OF YOU SOON!