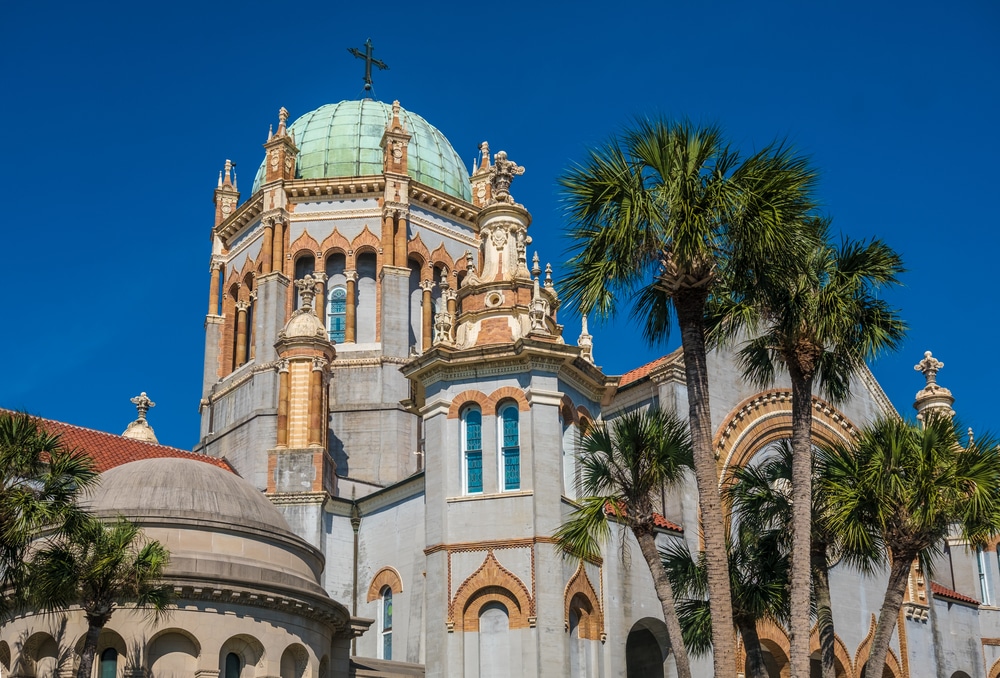 Of course, a city as ancient as St. Augustine is bound to have stunning architecture and historical attractions, but one of our favorite elements of the past here are the beautiful old churches. Each of these impressive structures has a story that dates back to the founding of this area, and when you step foot inside, it's almost impossible not to be awed by the old churches themselves, as well as the feeling that you're inside years and years of rich history.
Each of these historic landmarks is diverse, and they represent many different denominations of faith. Sites like the Catholic Cathedral Basilica (dating back to the late 1700s), the Methodist church, and the Greek Orthodox shrine offer us a window into the past and what life was like all those years ago. If you find yourself intrigued by these old churches, you're not alone, and there are even local touring groups that offer routes with this topic in mind.
As a guest at our St. Augustine Bed and Breakfast, you'll be lodging at one of the most walkable and convenient locations in all of the city. Local attractions, restaurants, and shopping are all right nearby! That is, if you feel like leaving the comfort of your luxury suite at the Inn. Each of our seven beautifully appointed rooms has comfortable beds with fine linens, private baths (some with jetted tubs), and lovely seating areas. To top it all off, guests are treated to a complimentary breakfast each morning.
Check out our upcoming availability and book your next holiday today!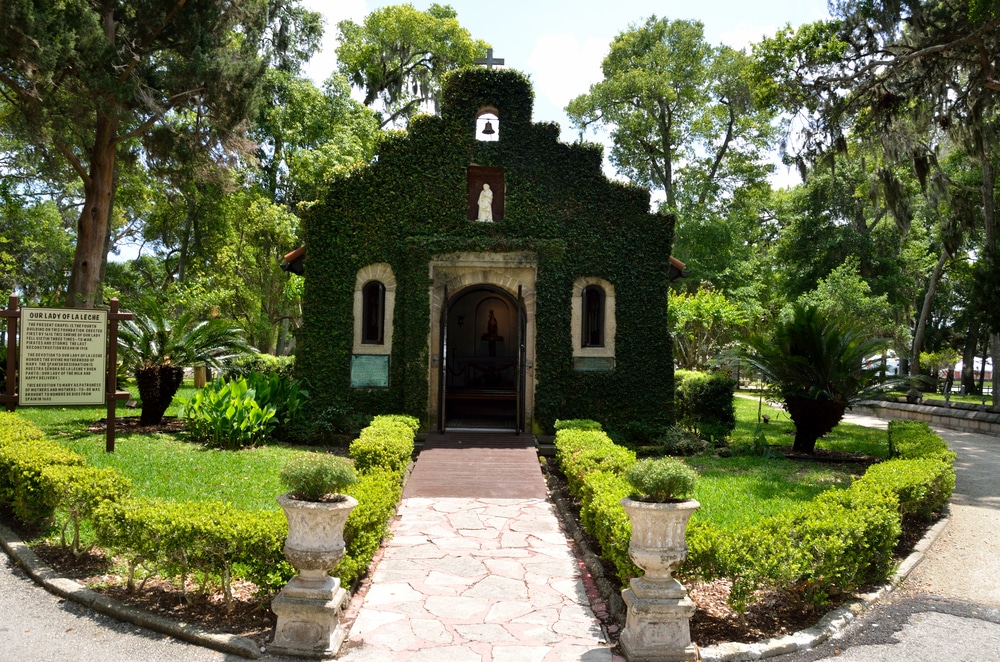 Explore the History of St. Augustine at these Old Churches
One of the best ways to explore these old churches in St. Augustine is with Old Town Trolley on their historical sightseeing tours. Additionally, when our St. Augustine Bed and Breakfast is your home base, you'll be within walking distance to all of these old churches on our list.
Cathedral Basilica of St. Augustine: This national historic landmark is the oldest Catholic church in St. Augustine, founded in 1565, but the current structure was completed in 1797. The architectural style is a combination of Spanish Mission and Neo-classical design, and it's one of the most impressive buildings in the area.
Memorial Presbyterian Church: Built by Henry Flagler in 1889 to honor his late daughter, this church consists of a Venetian-Renaissance architecture with intricate terracotta friezes, an enormous copper dome, and hand-carved mahogany details.
Shrine of Our Lady of La Leche: One of the smaller, unassuming old churches to visit, this vine-covered historical shire is known as the oldest in the US. It's located within the Nombre de Dios Mission, also a treasure of history with a 208-foot stainless steel cross which was a gift for the 400th anniversary of the mission.
Trinity Episcopal Church: As the oldest Protestant church, there are a lot of beautiful details to see at this historical landmark. Intricate and original stained glass windows are one of the most impressive elements.
St. Photios Orthodox National Shrine: This holy space, dedicated to the first Greeks who immigrated to America in 1768. is located within the Averno House, a two-story rectangular block made from coquina stone. You'll find a museum, a chapel, and much more to explore here.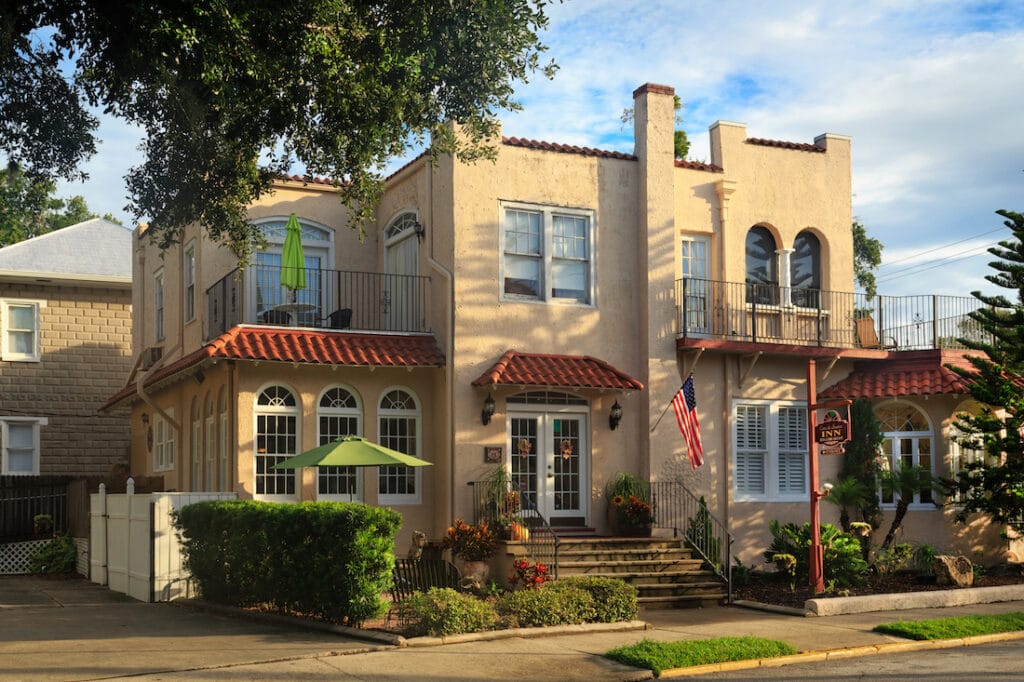 Enjoy the Historic Architecture at Our St. Augustine Inn
As a guest at our St. Augustine Bed and Breakfast, you'll also be staying in a location that's of historical importance. The past iterations of the Inn included a personal home for a local Cigar Mogul, a funeral home in the early 1900s, and a range of businesses until 1998 when the Casa de Suenos Bed and Breakfast was founded.
Our St. Augustine Bed and Breakfast has a distinctive Mediterranean-Revival styling with expansive Palladian and bay windows, red tile roofs, and stucco exterior. Inside you'll find suites equipped with balconies and arched doorways; the asymmetric layout creates exciting spaces, some spacious and welcoming, others cozy and intimate. The ancient surrounding neighborhood is the perfect place to stroll in the footsteps of the past.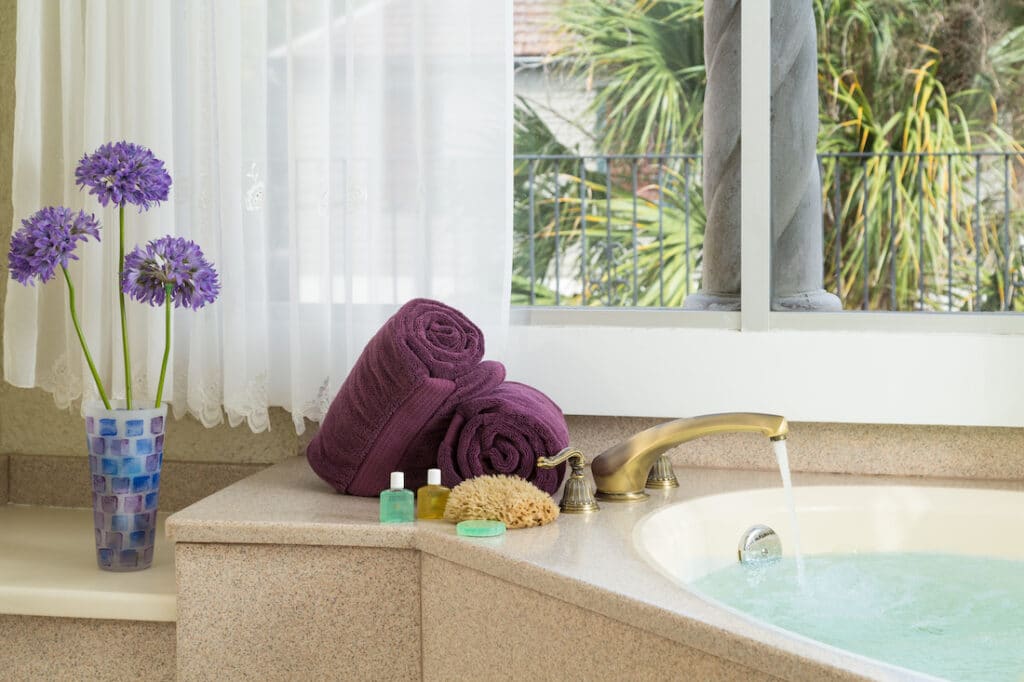 Reset & Relax at our St. Augustine Bed and Breakfast
Join us for a gourmet and complimentary breakfast each morning before you head out on a tour of the old churches and ancient architecture in our charming city. Enjoy your meal in our spacious dining room, elegant garden terrace, or in the privacy of your own suite. The homemade menu changes daily but always includes two hot entrees, fresh-baked breads, and seasonal fruits. It's truly the best way to start each day of your vacation with us.