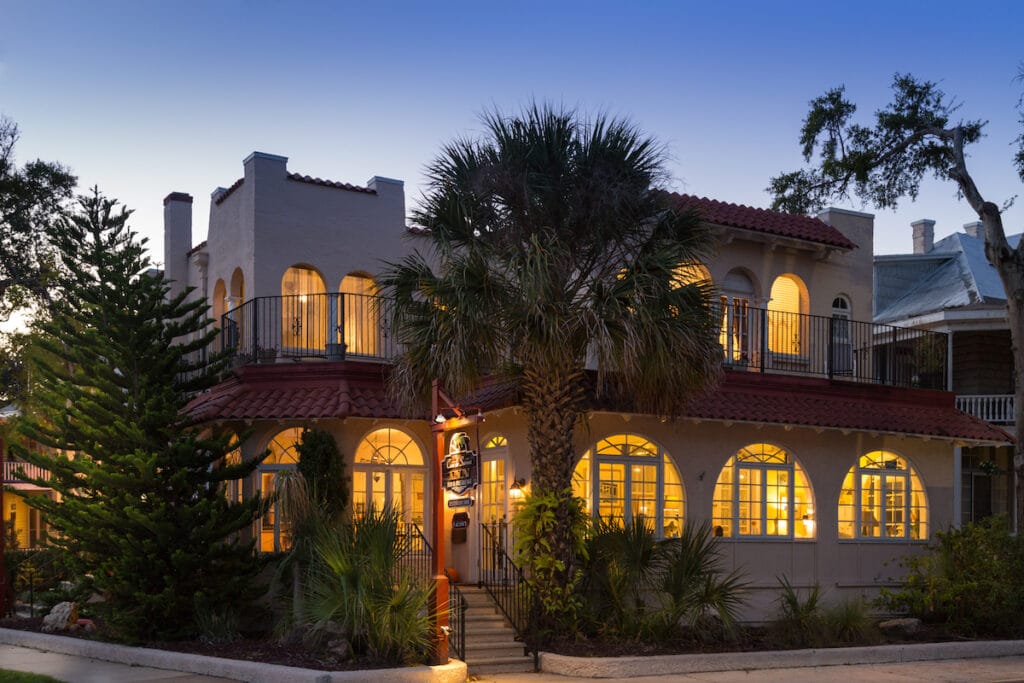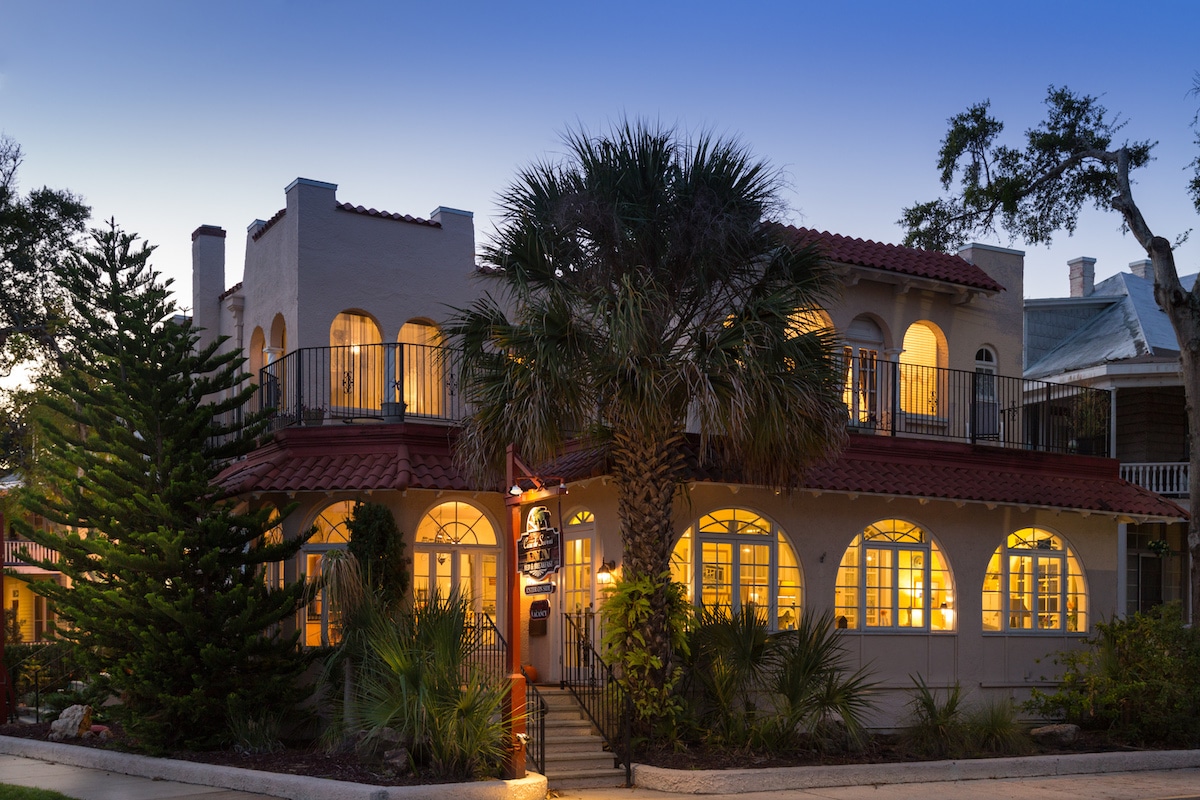 If you're on the hunt for lodging for your next Florida escape, Casa de Suenos is one of the best places to stay in St. Augustine. Our historic Inn is centrally located in Florida's oldest city for exploring the cobblestone streets, museums, attractions, landmarks, and sandy beaches. Our charming Inn maintains a casual yet straightforward elegance as a backdrop for your vacation, including a host of complimentary amenities, modern touches, and luxury guest suites.
The incredible historic neighborhood is unique, and the surrounding buildings and homes are full of character. One of the first things you'll notice is the quiet and peaceful ambiance of this area, and you'll automatically feel the stresses of everyday life slip away. The distinctive architectural details of our Inn feature the Spanish style, creating an intimate setting, particularly special for romantic getaways. After a restful night's sleep in your private guest room, we treat all guests to a gourmet breakfast each morning.
There are so many reasons why our classic Florida lodging is one of the best places to stay in St. Augustine. If you check our reviews on TripAdvisor, you'll see that our warm and welcoming service is what keeps bringing guests back year after year—and we're consistently honored with the Traveller's Choice Award. Start planning your next getaway and book at one of the best places to stay in St. Augustine today!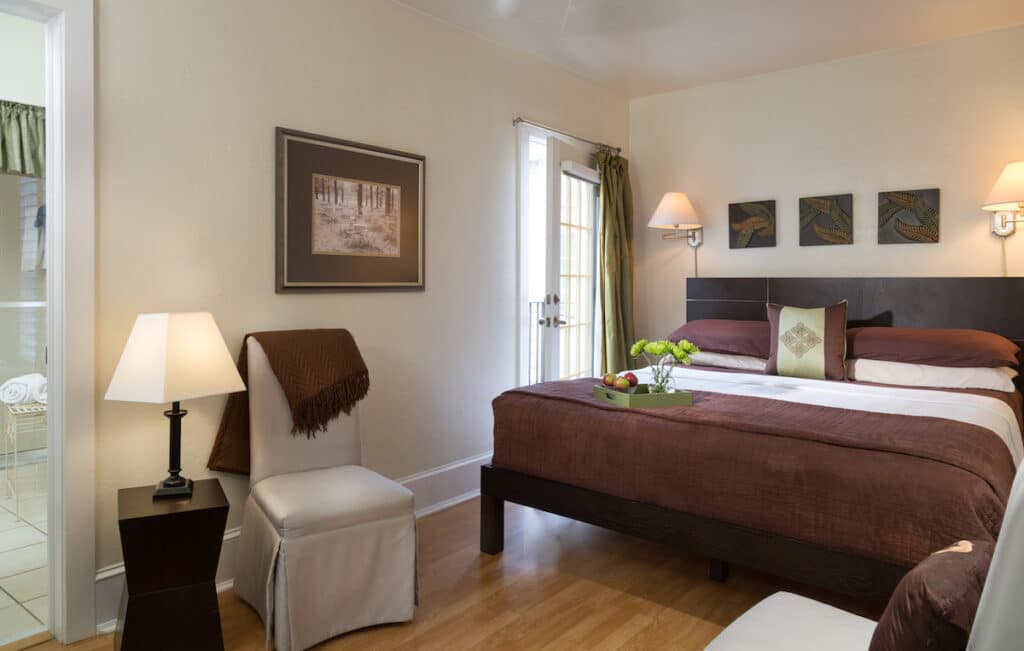 One of the Most Romantic Places to Stay in St. Augustine
Whether you're planning a romantic retreat, a group getaway, or a solo trip to the ancient city of St. Augustine, our Florida Bed and Breakfast is the ideal space to make your home base. Not only will you be in the perfect location for exploring the nearby attractions, but you'll be treated as a VIP each day of your stay.
Here are our favorite reason why we're one of the best places to stay in St. Augustine:
Ideal Downtown Location: As a guest at our St. Augustine Bed and Breakfast, you'll be within walking distance to so many of the famous attractions of the oldest city. The Castillo de San Marcos is less than 10 minutes on foot, as well as the historic pedestrian-only St. George Street packed with shops, restaurants, and cafes.
Shared Common Rooms: The layout of our eclectic Inn allows guests to enjoy our common indoor and outdoor spaces during their stay. We encourage an afternoon relaxing in the bright light of one of the two living rooms, enjoying your morning coffee in the dining room, and spending an evening on the patio with a glass of wine.
Special Packages: We like to offer lots of extra perks for your stay, which is apparent in our long list of complimentary amenities available to every guest, but for those who might want to add an element to make their stay more memorable, we have such a great selection. Check out the options for romance packages, midweek specials, and exciting tours.
Unique Guest Rooms: Our lodging accommodations are for sure one of the things that make our B&B one of the best places to stay in St. Augustine. No room is exactly like another, with unique decor, layout, and stylish appointments. Luxury linens dress the beds, beautiful windows frame lovely views of our classic neighborhood, and select rooms have private balconies.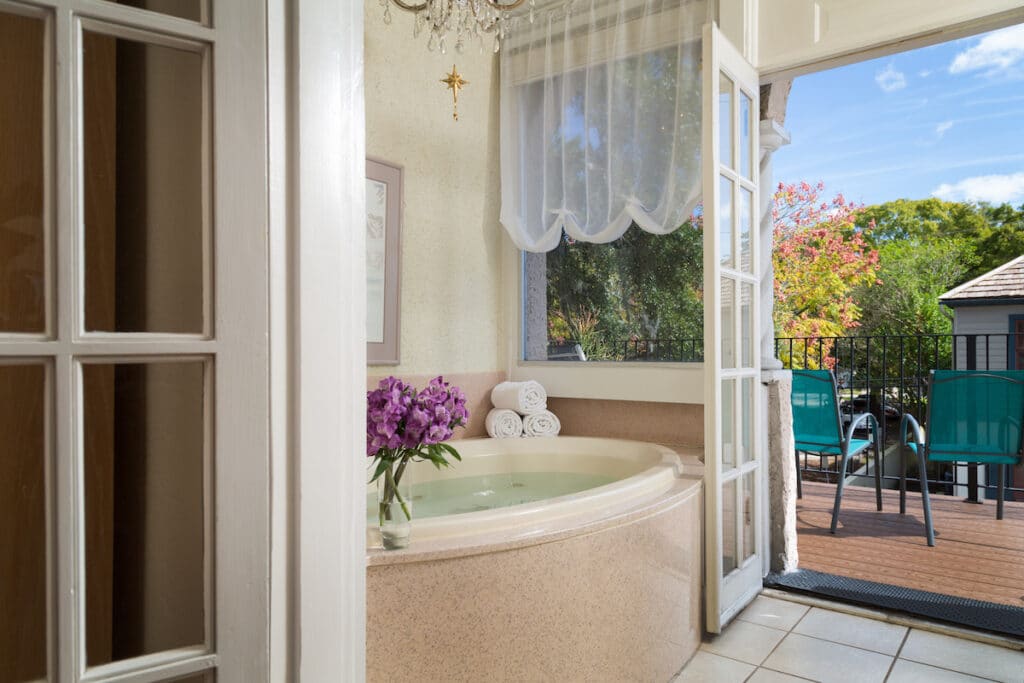 Elegant Bathrooms: Relaxing in a jetted tub or a steamy walk-in shower is a favorite pastime for our guests. All bathrooms are equipped with fluffy towels, plush robes, and luxury products. The Cordova Room is one of the best places to stay in St. Augustine for a romantic getaway for the double jetted tub access by French doors, a secluded balcony with seating, and elegant old-world decor.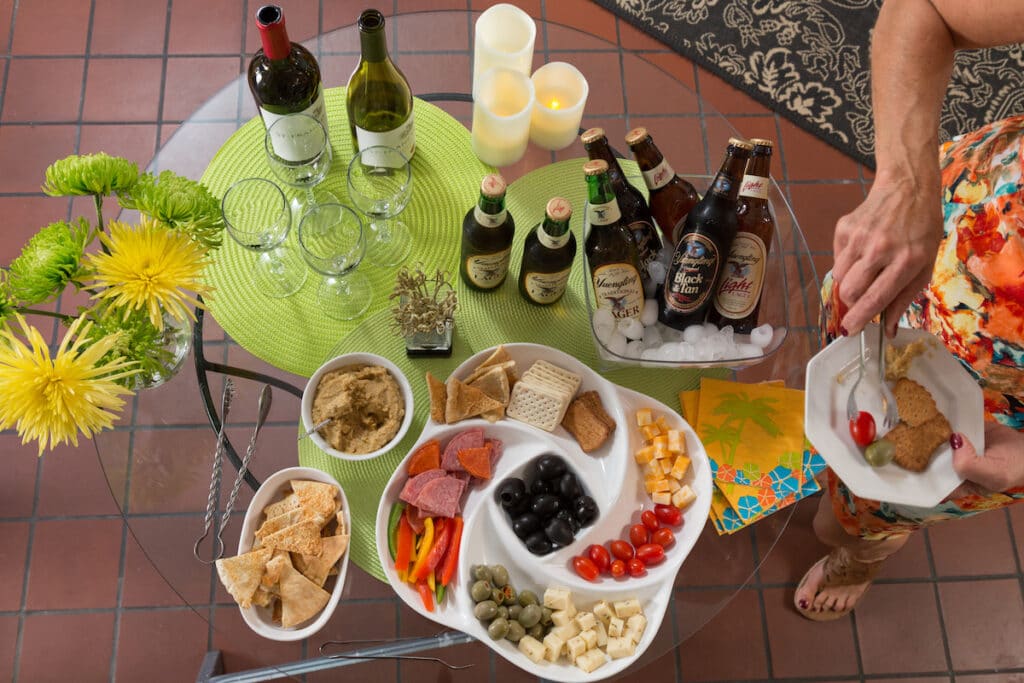 Enjoy our Complimentary Amenities on Your Stay with Us
One of the best amenities for your stay is our social hour in the afternoons, which often lead into the evenings as people strike up conversations and begin friendships. We offer complimentary beverages, including beer, wine, and non-alcoholic options, as well as a creative and flavorful snack spread. Happy hour at Casa de Suenos is a great first stop before heading out to one of St. Augustine's gourmet restaurants for a festive dinner.
You'll notice that no detail goes unnoticed at our Florida Bed and Breakfast! As one of the best places to stay in St. Augustine, we can't wait to show you why; book your stay today!